Standard Process Products Sheboygan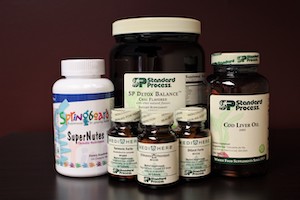 At Heinen Chiropractic, S.C., we know that there are three aspects to enjoying great health: moving well, eating well and thinking well. Chiropractic will assist you in staying aligned and mobile. What can you do to make sure your body gets the proper nutrients? Dr. Heinen is certified in nutrition by the state of Wisconsin and can provide the personalized recommendations you need.
Dr. Heinen recommends whole food supplements from Standard Process. This company is the first of its kind in the entire world and is located right here in Wisconsin. These products are available only through authorized providers, such as Heinen Chiropractic, S.C..
Why We Work With Standard Process
Most nutritional supplements that you find today are created in a laboratory and involve petroleum products. Whole food supplements like the Standard Process line, however, are created from real food, much of it harvested on-site at the Standard Process farm. When prepared, the organically grown vegetables preserve their nutritional value.
The benefits of choosing Standard Process include:
Whole food sources
Regular testing to product quality and safety
Certified organic farm
Guaranteed purity
Standard Process was the first company in the entire world to make whole food supplements. Their 420-acre, certified-organic farm is just south of Sheboygan in Palmyra, Wisconsin. You can feel confident in the farm's soil health and purity. The company's goal is to provide nutrients to people as they're found in nature.
Standard Process is the world's first company to make whole food supplements. Their goal is to provide nutrients as they are found in nature—in a whole food state."

Dr. Heinen
Find Out What We Can Do for You
Could you improve your overall health and well-being by adding Standard Process Products Sheboygan to your health care regimen? Ask Dr. Heinen on your next visit. Or, if you're ready to become a new patient, contact us today! We have a special offer available. For just $87, you'll receive a consultation, examination and X-rays, which can be taken on-site.
---
Standard Process Products Sheboygan WI | (920) 451-9960