Biofreeze® Sheboygan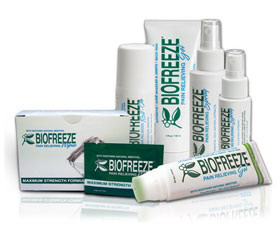 At Heinen Chiropractic, S.C., we want to help you live a life that's free of aches and pains. Along with chiropractic care, we provide a broad range of therapeutic products in our office. They're available for purchase to anyone who would like them, whether or not you are a patient with us. One such product that can be especially beneficial is Biofreeze.
Biofreeze can help relieve the following:
Back and muscle pain
Arthritis pain
Shoulder and neck pain
Joint and leg pain
Why Choose Biofreeze?
There are many options for topical pain relievers out there on the market today. You might be wondering, what advantages would Biofreeze offer me? There are several, starting with that it is non-greasy and won't leave a stain. There is no lingering odor, so those sensitive to smells don't have to worry.
Additionally, Biofreeze is fast-acting and will last for an extended period of time. Studies have shown that it is twice as effective as applying ice.
How Biofreeze Works

Biofreeze uses cold therapy to alleviate pain. This penetrating relief can last up to several hours after you have applied it. When your muscles don't have pain, you can heal faster. The menthol contained in Biofreeze stimulates the body's cold receptors, creating a sensation of cooling on and underneath the skin. The feeling of cold will stimulate pain receptors, blocking the signal of pain that is sent to the brain.
Who Should Use Biofreeze
Biofreeze can give you a break from the pain that you have after an injury such as an auto accident injury, work-related injury or sports injury. It also provides relief to people who misuse or overuse their joints and muscles.
You can purchase Biofreeze in any of the following sizes:
2 oz. spray
4 oz. spray
16 oz. spray
3 oz. roll-on
4 oz. gel
4 oz. gel with applicator
16 oz. gel
32 oz. pump
Single use wipes
---
Biofreeze Products | (920) 451-9960